# 1
Start recording your video and hold a sign, banner or piece of paper which says: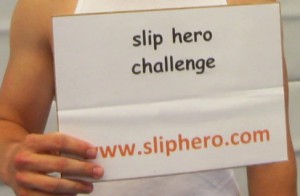 Speak ceremoniously the words:
My name is …
I accept the slip hero challenge
and I nominate …
Tell the world your name and the name of the persons you nominate for the challenge.
# 2
Slip throug the offical mini band or use a similar tight and strong fitness band.
Slip through with your whole body and do it as fast as you can while your friends cheer you up. If you want somebody can stop the time.
# 3
Make sure that all of the nominated persons accept the challenge. If they hang behind you've to kick ass again and again.
Post the video on the internet and share it with your friends and the rest of the universe.
Drop me a note, send me an email or leave a reply with the URL of your funny video. You also can send the video to info@sliphero.com